E3 2010 Day 3: Impressions
The final day of E3 2010 was christened with a stampede through the exhibition hall, right for the Nintendo booth, generated by those who realised that it was their last chance to check out the Nintendo 3DS. This very fact should only confirm the subtle brilliance of the new handheld. There were no press conferences today as there was on day 1 and day 2 of E3 2010, so I'll dive straight into my impressions of some the games I was able to test out, with more to come in the following days!
a
Red Faction: Armageddon
Volition is back on the scene with the latest instalment for the Red Faction series, this time, dramatically titled Armageddon. I'm not sure about the end of days, but in Red Faction signature style, it certainly lets off a shed load of destruction. During our fifteen-minute demo we were shown one of the first gameplay sections, in which you have to clear an infested cavern for the convoy behind you. It was merely a chance to show us the awesome power of some of Armageddon's new weapons. Instead of simply going bigger, which would be a tall order considering the scope of Guerrilla's terrain and destruction, Volition have astutely chosen to maximise the effectiveness of the tools of demolition.
a
The first new feature we were introduced to was the Magnet gun: fire one projectile onto one object or structure and it will hurl whatever it sticks to, against wherever you place the second projection. This mechanic's potential is huge, leaving the possibility of crushing unwitting soldiers in between whole guard towers. Secondly, we were told that nanoforge technology had significantly advanced since the previous game, and they now have the ability to completely rebuild any broken structure. Again, the possibilities begin to manifest as we are shown our protagonist destroying a crate, only to hop inside and repair it, giving him a much-deserved respite from battle. These two features, along with a formidable controllable mech already have me aching for some breaking under Mars' surface. So Volition tease us that there are plenty of other new toys waiting in the wings as well. Evidently Armageddon came off pretty well on the show floor, but we'll have to wait for March 2011 for the full experience.
a
a
To keep you from destroying your own home in anticipation, here's a few words from Jameson Durall, Senior Designer at Volition:
Could you tell us a little bit about the premise of Red Faction: Armageddon?
Story-wise, you play the grandson of Alec Mason and Samanya, so about two generations after red faction guerilla. There's been a war of the surface, about ten years ago it was destroyed and they were forced to relocate underground. So it took about ten years to do that but then in the last three days it was all torn apart; something was unleashed that's destroying everything and they're trying to find out who's still alive.
Going back underground is kind of going back to the old school for the Red Faction series, what was the reasoning behind that?
Well I mean, one of the things we found in red faction guerilla was that there was a lot of downtime in between the gameplay, you had to do a lot of driving. So what we felt is that if we bring it underground, that we can bring everything a little tighter and closer. Now we've got destruction on the ceilings and the walls and everything. It's just more focused.
In Guerilla vehicles obviously played quite a large part, is there still going to be that element?
Absolutely, we've got some pretty substantial vehicles. Including the LEO mech [shown above], which is awesome.
In terms of the tech, does Armageddon use the same GeoMod 2.0 engine?
Well we took a look at it and built on it a little bit more. We talked about bringing everything in – more focused destruction, and a lot more destruction in each area. One of the main focuses, though, was creating weapons and abilities that use destruction better, like the magnet gun, which basically turns everything into destruction, flinging it around.
Is there a more focused progression through the game this time round?
Yeah, we really wanted to give a much stronger story and an experience that would lead you through a little bit more than before [in guerilla]. There's certainly still a lot of choice, but we wanted to give it a good narrative and we feel like the story is actually pretty strong for the game.
a

a
Homefront
THQ's brand new IP, Homefront, centres around a world, almost entirely under the military control of the Korean's People's Army, lead by the fictitious son of Kim Jong II. But creating a fake son to bare the ultimate blame is as tame as the game gets, in terms of coming close to the bone. Indeed, it employs recognisable American brand names to make the player identifies more with his environment, and equally to make sure the contrast of an occupying Korean army is fully realised. Homefront, upon sight of gameplay footage, comes off as a typical first person shooter, but Kaos Studios are determined that their unique selling point lies in the contrast of location compared to traditional competitor's games. Setting the fight in the heartland of America isn't exactly untrodden territory, but taking the combat tactics to a guerrilla approach should afford Homefront a lot more attention, regardless of the hordes of Korean soldiers marching through E3 or the well-constructed timeline trailer, featuring real news clips.
a

I have a certain admiration for this title, as it appears to pride itself on story and elementary combat, which is risky if all the elements fail to coalesce, but a relief nonetheless, from all the one trick pony shooters out there desperately grasping at anything that makes them different from Call of Duty. Though it was not mentioned at E3, reports are that the game uses a magnet system that brings the action closer to you. So, for example, that burning helicopter hurtling towards the ground: that's coming for you, or if not you then the poor sod standing next to you.
a
In the particular scene we were shown, the lead characters mounted a makeshift assault on a compound based in a parking lot. Most noticeably, the guns packed a lot of power, at least judging from the sound they were making and we witnessed some nice animations especially from the incoming napalm and the screaming soldiers it subsequently burnt. Homefront shows a promise that will remain intact at least until it releases thanks to a script written by John Milius co-writer of Apocalypse Now and Red Dawn, though we've yet to see whether the skill of writing good films translates into the video game format. Expect an invasion on U.S. soil in February next year.
a

a
Super Scribblenauts
Scribblenauts for the Nintendo DS somewhat stole the show last year, offering a gameplay mechanic never attempted before, whereby your loveable avatar can summon almost anything he pleases, simply by writing it down. This year's sequel aims to perfect and extend this award-winning experience through tweaks, meticulous game design and one brand new feature. This feature I speak of is the logical next step: adjectives, meaning you can russle up a spotted ostrich or an atomic pineapple at will. However the original mechanic still gets my mind whirling as to the countless ways different situations could be solved, so any extension is a bonus. With a large screen linked to the demo DS, projecting my every move, I was often at a loss for words, or at least suitably zaney ones, but that will undoubtedly be the beauty of sitting down with Super Scribblenauts upon its release, to fathom up the best or most elaborate solution.
a
The sequel also benefits from some controls polish, ensuring a brush of the stylus won't send Maxwell of on a jog. Other than this, the rest comes down more levels, which needed to be considered carefully so that Godzilla wasn't the one word answer to all your problems, as the floor attendant explained to me. It was a shame to see the developers at 5th Cell couldn't squeeze a bit more out of the graphics, but it's understandable given the nature of the game and the rough art style, and anyway, being able to create a flaming shark is enough to keep me happy for a long while. Anyway, you'll be able to scribble away as soon as October!
a

a
Fallout: New Vegas
Fallout New Vegas, put simply, is making me shake just thinking about it. Fallout 3 was a fantastic game and New Vegas only serves to produce another retro-futuristic wasteland for you to wonder while addressing some of the few issues it's predecessor had. From the outset the franchise gets new life breathed into it via the new visual elements. Because Vegas was not directly hit, buildings are more intact and the Hoover Dam is providing electricity to various places including the colourful and now barricaded Vegas strip. Breaking apart from the browns and greys of Fallout 3 does it a lot of favours, not least of which is to set it apart as a full spin-off while still maintaining the links with fallout universe, via the gameplay and quirky experience.
a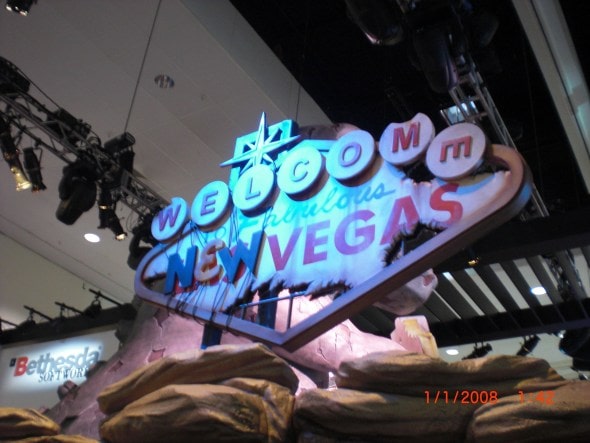 a
Exploring the story or deeper RPG elements is difficult in such a short period of time, so I mainly focused on the combat and surrounding features. All wasteland dwellers will be pleased to know that combat feels as good, if not better than Fallout 3 and those with a penchant for getting up close and personal are now fully catered for through the excellent VATS system. The new weapon customisations, although I was unable to exploit them fully, look very interesting, adding a whole other layer to both combat and resource management and Obsidian have captured the spirit and freedom that the Fallout world deserves, perhaps owed to the remnants of the team within the company who worked on the original Fallout 1 and 2. I was barely able to do more than have a quick survey of my surroundings and then deal with some local critters, but even from such a short playtime, I'm confident that Obsidian will deliver the same great Fallout experience no matter what, with some nice additions and refinements to combat and the way statistics work, regardless of how the narrative compares to Bethesda's stellar job on Fallout 3.
a

a
Summary
E3 2010 is now well and truly over and has already been dated for 7-9th June in 2011, and I'm told bookings for the Holiday Inn, just down the road, are already filling up! It's been an interesting ride, and there's plenty of miscellaneous news worth a glance, which will be up sometime tomorrow along with a comprehensive summary of the trends at this years E3 and the decided winners and losers so make sure to check back for continuing coverage of the big news from E3 2010.
a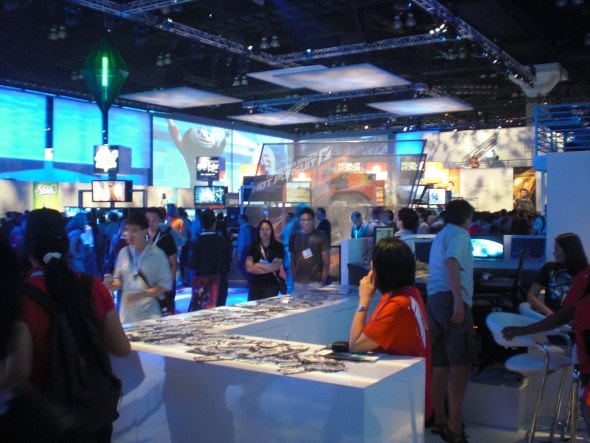 a